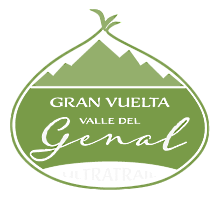 Destinos Populares
La Valle del Genal
The Genal Valley is located between the Natural Parks of the Sierra de las Nieves to the east, and the Sierra de Grazalema Natural Park and the Alcornocales Natural Park to the North.
The valley of the Genal River is the territory of the Serrania de Ronda that has the largest number of municipalities, 15 out of 25 of the total in the Serrania de Ronda. Although it has very few inhabitants (9000 approx.) most people are charming and friendly, and very approachable for information on the area and it's history. The emigration and the vegetative descent (fewer children per family unit) have meant a huge loss of population, especially in the 50s and 60s, but also to the current day as agriculture struggles and employment in building declines.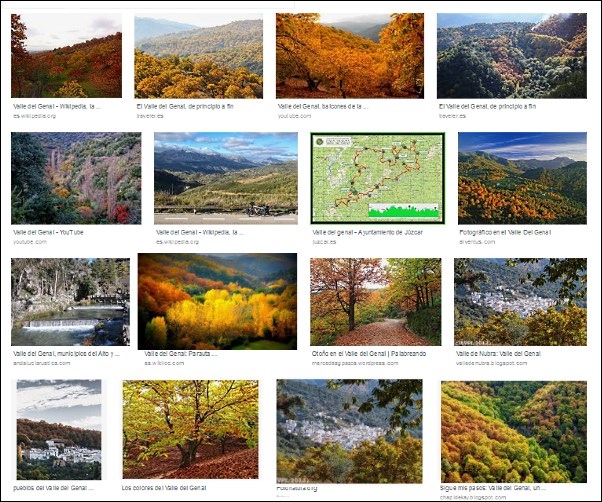 The people of the Genal Valley have maintained a rich natural and cultural heritage since time inmmemorial, and are very willing to share this with visitors and new people moving to the area.
To appreciate its values it is a must to visit all its towns: Pujerra, Igualeja, Parauta, Cartajima, Júzcar, Faraján, Alpandeire, Atajate, Benadalid, Benalaluría, Algatocín, Jubrique, Genalguacil, Benarrabá and Gaucín.
The Genal River rises in the most rugged foothills of the Sierra de las Nieves. In the town of Igualeja, a spectacular birth brings a crystalline flow to its bed. Its lenght is about 53 km from it's two sources of Igualeja and Júzcar, where at both villages you can visit the source.
Mountain walks to to the north and east by "Los Riscos" mainly a lime stone landscape coming from different prehistoric periods, now a mountain range with a rare selection of minute plants and shrubs clinging to the rock face, and unusually displays marine flosses from when this rugged lunar like landscape, was the floor of the Mediterranean, before the collision between Europe and Africa Worth visiting are the Sierras de Júzcar, Cartajima and Igualeja and to the south by Sierra Bermeja with Genalguacil and the Pina Blance Peak, with incredible views of the valley from the south, and the Costa del Sol from Malaga to Gibraltar and the North African Coast. There is an ancient vartety of Pine called Pinsapo, which grows on the peaks of the Sierra Bermeja, Serrania de Los Nieves to the East, and the Rif mountains of North Africa. What's most amazing about the Pinsapos is they survived the Ice Age, and each of these mountain ranges in a tri-angle can be seen form each other.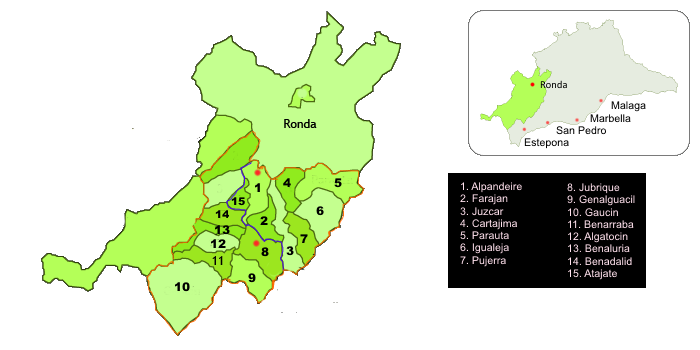 Numerous streams of pour their waters in to the River Genal such as: Gorgorte, Benamaya, Benajamuz, Almarchal…
On its banks grow the trees and shrubs of rivera: walnuts, poplars, alders, willows, ash, oleander, ivy, some fern and the beautiful flower of the widow. Accordign to Moreno Borrel: "It is one of the places with more own identity and beauty at the frame of the Serrania de Ronda, and, generally speaking, of Andalusia. The valley of the Genal river parallel to the Guadiaro river, is surrounded by a dense vegetation which is mainly natural Mediterranean forestation since depleted in other Mediterranean countries, the cover which contains some deciduous trees like Sweet Chestnut and three varieties of Oak including the ancient Encinas and Cork Oaks. Also with Olive Groves, well adapted to these surroundings".

Ronda 29400, just North of the Genal Valley.
Latitud (36.741960) Longitud (-5.166412) Altitud (721.03 m)

Municipalities of Alto Genal
1.
Alpandeire 29460 (Casa Pilar)
Latitud (36.633170) Longitud (-5.202244) Altitud (691.16 m)
2.
Faraján 29461
Latitud (36.616200) Longitud (-5.189152) Altitud (632.20 m)
3.
Júzcar 29462
Latitud (36.625060) Longitud (-5.170815) Altitud (622.42 m)
4.
Cartajima 29452
Latitud (36.645400) Longitud (-5.153931) Altitud (835.13 m)
5.
Parauta 29451
Latitud (36.655330) Longitud (-5.129627) Altitud (819.96 m)
6.
Igualeja 29440
Latitud (36.630330) Longitud (-5.122461) Altitud (692.65 m)
7.
Pujerra 29450
Latitud (36.612700) Longitud (-5.149421) Altitud (781.43 m)
---
Municipalities of the Bajo Genal
8.
Jubrique 29492 (Cortijo Retarta)
Latitud (36.564320) Longitud (-5.215247) Altitud (556.01 m)
9.
Genalguacil 29492
Latitud (36.544270) Longitud (-5.235879) Altitud (508.33 m)
10.
Gaucín 29480
Latitud (36.518300) Longitud (-5.317524) Altitud (609.40 m)
11.
Benarrabá 29490
Latitud (36.551690) Longitud (-5.276832) Altitud (536.67 m)
12.
Algatocín 29491
Latitud (36.572890) Longitud (-5.276559) Altitud (711.45 m)
13.
Benalauría 29491
Latitud (36.594020) Longitud (-5.261163) Altitud (680.53 m)
14.
Benadalid 29493
Latitud (36.605770) Longitud (-5.268939) Altitud (694.84 m)
15.
Atajate 29494
Latitud (36.639990) Longitud (-5.245177) Altitud (743.50 m)
---
Walking Guides
Guidebook to walking in the mountains of Ronda and Grazalema in Andalucía, southern Spain. The 32 graded routes range from 4 to 16km and explore the Natural Parks of Grazalema and La Sierra de las Nieves, the 'Pueblos Blancos' (White Villages) perched high in the mountains, and the Genal and Guadiaro river valleys.
Walks shown on the image to the right, mouseover for larger image.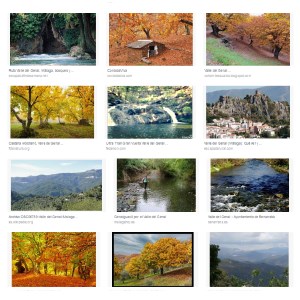 6 of the best walks around Ronda, Spain
Things to do in Ronda
Lately we have noticed an increased number of articles (on the Internet, ironically) encouraging us to disconnect and spend less time inside staring at a screen and more outside in nature. Motivated by public health problems, such as obesity and depression, scientists are focusing their efforts on how nature affects our brains and bodies (take a look at National Geographic magazine's latest feature on this here). With this in mind, we've put together our six favorite walks in the countryside around La Cazalla, and you don't have to be an Olympic athlete to enjoy them. Go on! Close your laptop, switch off your phone and rejuvenate your senses in the wild.
Visit "La Cazalla" for Info
Valle del Genal, balcones de la serranía. Málaga
Canal Andalucia Turismo, Published on 14 Mar 2015
A different trip, the map of Andalusia with spectacular videos ... in our Web!
Exploring the lower Valley Genal with just some of it's villages, Genalguacil (1:40), Benaldalid (4:30), Benaluria (4:50) and Gaucin (8:27)
Canal Andalucia Turismo
---
---
---
---
Bosque del cobre - Fábrica de hojalata (Pujerra,Cartajima y Júzcar)
The Genal Valley in Autumn is a magical experience. The golden colours of the Chestnut groves are spectacular, and change to a different shade daily.
---
---
Altos Vuelos - Pico torrecilla - between the clouds, Sierra las Nieves, Málaga.
Overlooking the Genal Valley is the national park of Sierra las Nieves, located between Ronda and San Pedro.
---
---
Sendero Micológico de Pujerra a Júzcar. Málaga
Mycological Mushroom Trail from Pujerra to Júzcar. Malaga
Canal Andalucia Turismo - Published on 24 Apr 2018
Un viaje diferente, el mapa de Andalucía con videos espectaculares…. en nuestra Web!!
A different trip, the map of Andalusia with spectacular videos ... in our Web!

That's me on the left (0.08 min) with my Collie, Mila. She's the official Guide for Juzcar, The Blue Village.
Presented by my neighbor Sergio Sanchez, Forest Guard and expert in the field of Micológico
Canal Andalucia Turismo
---
---
Valle Del Genal
---

CASAS RURALES
Clarinda Parques S.L.
Valle del Genal, Serranía de Ronda, Málaga, Andalucía, España.