Our Rural Houses
Cortijo Retarta
VIVIENDA TURISTICA - CR/MA/01772
CORTIJO RETARTA - Calle Guardia 13 - JUBRIQUE 29492 - MALAGA
The Cortijo at Finca La Retarta is a fine example of an old Andalusian home built to traditional design.
Now reformed as a Self Catering Hotel, it is ideally suited for groups or family get together's. Enjoy a unique experience of Rural Living in modern comfort with lots of outdoor space.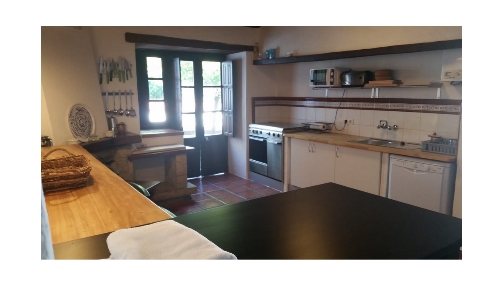 ACCOMMODATION
The House Sleeps 13 Persons in 5 Bedrooms
There are two additional Double Sofa-Beds, one on each floor.
GROUND FLOOR:
(sleeps 8 Persons)
Room#1 : One Double Bed and Cot,
Room#2 : One Double Bed and One Single Bed,
Room#3 : Three Single Beds.
Salon : Double Sofa Bed (sleeps 2 extra)
Kitchen/Dining Room with Fireplace, Salon with Stove, Two Bathrooms.
TOP FLOOR:
(sleeps 5 persons)
Room#4 : One Double Bed,
Room#5 : Three Singles
Salon : Double Sofa Bed (sleeps 2 extra)
Kitchen, Salon with Open Fire, Dining Room, One Bathroom, Roof Terrace
OUTDOORS:
Swimming Pool and Garden with BBQ,
Dining areas in Garden and Courtyard,
Citrus and Olive Grove,
Private Internal Parking.
La Retarta
is situated in the White Village of Jubrique, which is in the Genal Valley, South West of Ronda and North of Estepona in Andalucia, Southern Spain.
La Retarta
is a luxury Cortijo with very flexible accommodation, that can suit both small or large groups and families. Set on the edge of the stunning white village of Jubrique in the Lower Genal Valley, one can enjoy the best of both worlds (Village Life and Campo).
The south western side of the property enjoys tranquil views of the surrounding countryside. The propertie's 3 acre gardens and olive/citrus groves are pleasant to walk through or just to sit in the shade. On the other side of the Cortijo, the street entrance opens to all the amenities of village life with it's shops, bars, restaurants and friendly locals. Retarta is quite a unique experience, providing an insight into both Country and Village life from one location, in the heart of Rural Spain.
Jubrique is an ideal location to tour the local countryside. With its wildlife and flora, walking trails, history and culture, Jubrique is very interesting place. It is also well worth visiting the neighboring Villages. Just 45 minutes in opposite directions, you can visit the Costa del Sol at Estepona or for a completely different experience, visit the historic and famous City of Ronda.
Kitchen
Oven, 5 ring gas hob, dishwasher, washing machine, fidge/freezer, trunk freezer, microwave, toaster and kitchen equipment
Outside BBQ, paella dish, 2 electric planchas. Patio tables and chairs, sun loungers
Images for Cortijo Retarta
Open in full Page...

---
Images for Cortijo Retarta - 3D
Open in full Page...

---
Navigation: 1. Use the Next & Previous arrows at the sides.
2. Use the image position locater at the base to jump back and forward.
3. Or click and swipe with your cursor to swipe back and forth (or your finger on a mobile).